When Technics releases an audio product, it's wise to take notice. Not content with fashioning one of the best decks I've ever heard (the iconic Technics SL-1500, just so you know) the firm's also been smashing wireless earbuds out of the park for years now – just take a look at the supremely talented EAH-AZ60 earbuds for starters.
Over-ears more your bag? You'll want to take a glance at our glowing Technics EAH-A800 review, but I digress.
Today (May 18, 2023), Technics is unveiling two new true wireless earbuds propositions: the all-new flagship EAH-AZ80 and the EAH-AZ60M2, a second-gen iteration built on the original AZ60 (see above).
The main differences between the two new options? The driver size: 10mm in the flagship buds vs 8mm in the updated AZ60. Then, there's a different housings and fit (the AZ60 sport the same teardrop shape as the older model; the AZ80 are a "concha-fit' shape – more on this later) plus a leveled-up mic array in the more premium option.
But make no mistake, both sets of earbuds feature active noise cancellation, Qi wireless charging, and Technics' improved Just My Voice tech for vastly superior call quality.
You're also getting LDAC, Bluetooth 5.2 and LE Audio in both models, when an update arrives later in 2023, an industry-first triple-device multipoint connectivity, wearer detection, and seven ear tip options. Yes, seven.
And the best bit for those of us with smaller ears looking for the perfect earbuds? After the XL, L, and M options, you get two S and two XS sizes, which feature different, er, neck lengths as well as widths (do stop snickering at the back). Anyone else feel like opening their palms to the sky and yelling "Finally!" or just me?
Don't be put off by the AZ80's large housings; they fit my small ears comfortably and securely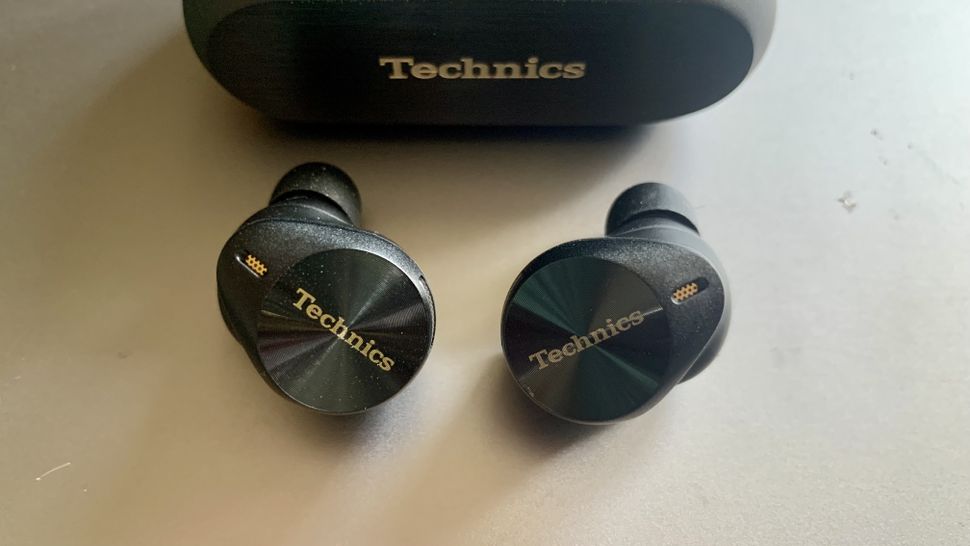 I'll be honest, when I saw the new shape of the AZ80 at a special pre-briefing session which included a candid comparison between the Bose Quietcomfort Earbuds 2 and the new Technics for call-quality (and which Technics aced and then some, thanks to the four-mics-per-bud design), I sighed. "Not going to work, is it?" I muttered, out loud. But I was wrong.
To clarify, the AZ80 earbuds look both large and deep, with a bulbous protuberance on the inside edge which I thought would never work for me. I braced myself for failure – for most of the earpiece to bulge forlornly out of my ear and ultimately for gravity to do its timely dance. But after selecting the XS Type 1 ear tips (featuring a longer neck) I slipped the earbuds into my ears and voila, they felt secure and comfortable! It's definitely something to do with that bulbous portion and the weighting of the units.
The Technics Audio Connect app now lets you check the remaining battery life in both the earbuds and the case (you get around seven hours from the earbuds alone and 24 in the case, with ANC on), adds a 'super bass' equalizer to the sound tab and allows you to change voice prompts to sound effects. It's a compelling suite of features, it has to be said.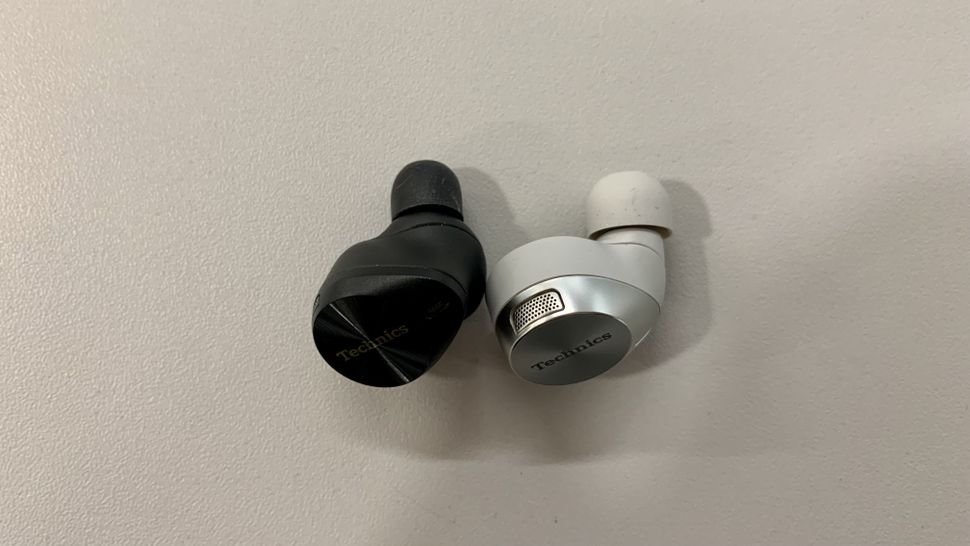 And while this should not be taken as a full review, in my limited time with these earbuds, the sound is very good indeed. My Chemical Romance's You Know What They Do to Guys Like Us in Prison sees Gerard Arthur Way's voice brimming with texture and beautifully close to the mic, in a spacious and layered mix.
Breathe's Hands to Heaven is also expertly handled in a dynamically sensitive and fiercely analytical mix that builds quite beautifully to the chorus. Again, I'm holding back on a final judgement here, but a strong contender for our best noise-cancelling earbuds roundup? Almost certainly.